A Visit With Mirella Patzer
Topic: Blog Tours
For the next few days, we have the honor of getting to know Mirella Patzer and her book, Bloodstone Castle, better. Sit back and enjoy our visit!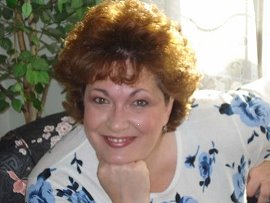 Meet Mirella Patzer - Your Guide on This Adventure

Books are one of Mirella Patzer's obsessions, especially those that pertain to medieval eras and with Italy as a backdrop. To fulfill a life long dream, she began writing several years ago and has never looked back. Since then she has published several short stories and completed two novels with several more novels in various stages of completion. Her fascination for women of history and Italy is often reflected in her work, blogs, and website. When she's not immersed in research or writing or blogging, Mirella works as an editor for Enspiren Press. She writes from her home in Cochrane, Alberta, Canada, surrounded by her husband, two college-bound daughters, and a rambunctious little grandson who frequently interrupts her work with a variety of unanticipated, yet humorous calamities and interruptions. For her, life couldn't get any better.
Bloodstone Castle by Mirella Patzer

Bloodstone Castle stands sentinel on the shores of the Ligurian Sea. Secreted somewhere in its dungeons is an ancient Roman treasure of immense value. Contessa Morena of Bloodstone Castle possesses a mysterious bloodstone pendant, the only proof the treasure exists. Since childhood, she has been promised in marriage to Duke Ernesto of Savona. Ernesto is a desperate man, a gambler who has lost his family's fortune, a man who resorts to murder, not once, not twice, but three times to keep from paying his debts and to hide his dirty secret. Marriage to the lovely Morena will make the treasure his and restore his power and desperate circumstances. After the brutal murder of his father, Duke Amoro of Genoa swears two oaths. The first is to avenge his father's death. The second is to honour his father's dying wish and wed Morena of Bloodstone Castle and end the violent feud with between their two families. He severs his affair with his mistress, Laria, and departs for Bloodstone Castle to propose to Morena. But Morena refuses to marry him. Her life thrown into chaos, Morena must choose between obligation and honour, truth and lies, good and evil. She must honour the betrothal her father arranged with Ernesto. Amoro continues to try to convince Morena otherwise.

Ernesto arrives at Bloodstone Castle to claim his bride, but finds Amoro there. The two men confront each other with much animosity.

Then, when the murdered body of Morena's father is brought home, Amoro helps her with his burial, then her and takes her to his home in Genoa. He is fiercely protective over her. This angers Morena at times because she insists upon her independence. While she is conducting an act of charity, she notices Amoro's men following her. As she tries to escape, she falls from her horse and is taken back to Amoro. When Amoro agrees to allow Morena full independence, they set a wedding date.

Laria and Ernesto meet and together they plan to separate Amoro and Morena.

On the day of the wedding, Morena falls into the clutches of Ernesto. Amoro arrives to rescue her and the two men agree to battle each other - winner gets the girl. Ernesto cheats and Amoro is held prisoner. Morena realizes her love for Amoro and to save his life, agrees to marry Ernesto. Laria is free to pursue Amoro again. But Amoro continues to refuse Laria. When Laria learns that Ernesto plans to kill Amoro, she aids Morena in a daring rescue to Amoro and his men.

In medieval Italy, two men face each other with ruthlessness and intensity. Enter their world of splendour and depravity, of passion and wickedness. It is Italy's most dazzling and dangerous age, and as Duke Amoro of Genoa and Duke Ernesto of Savona match wits and cunning, it is a dance the death to decide which one of them will win the hand of the beautiful Countess Morena and the hidden treasure of Bloodstone Castle
Posted by joyceanthony at 12:01 AM EDT