Dyan Garris--A Woman of Many Talents
Topic: Blog Tours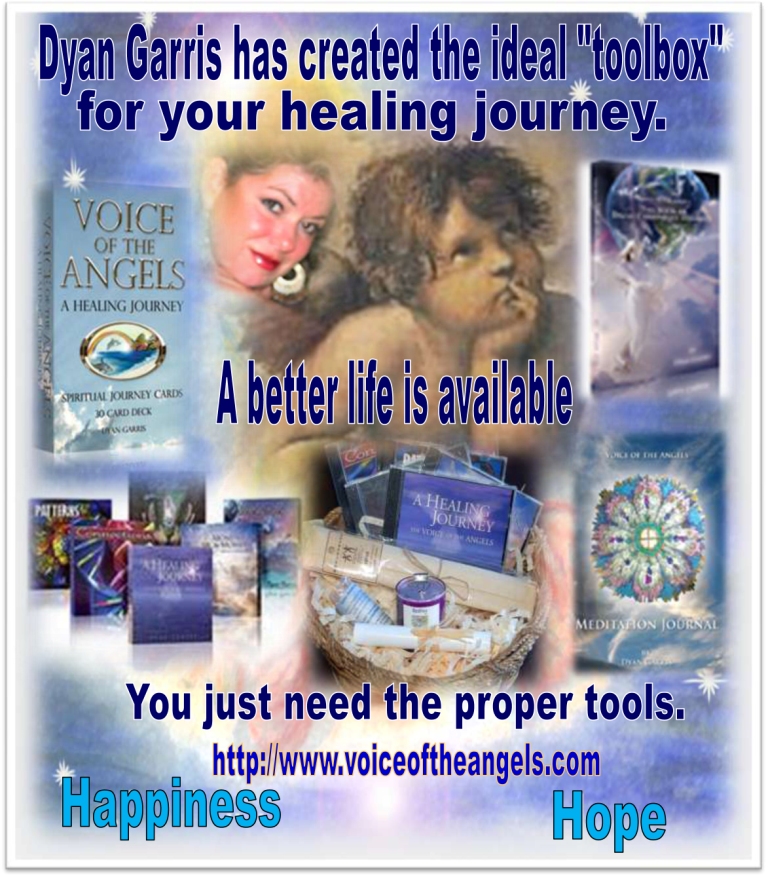 I have the wonderful pleasure of once again visiting with Dyan Garris for the next few days. She is going to give us a peek into the many wonderful tools she has to offer those of us seeking to make our lives better and happier.
Below you will find a bio of Dyan that includes links to many of her projects. She dropped by to speak to us and I will be sharing what she had to say.
Tomorrow, Dyan has agreed to allow us to hear a sample of the wonderful music she writes and performs. Later this week, we will explore her Angel cards and, on Tuesday, Dyan will honor us with a live chat in which she discusses chakras--this is a must attend chat!
Please be sure to read through to the end of this post for your chabce to win a copy of Dyan Garris' CD, which is a wonderful addition to any music library. Enjoy our visit with Dyan Garris :-)
**Meet Dyan Garris**
For many years Dyan Garris has been counseling clients in order to help them move forward in their lives. She is clairvoyant, clairaudient, and clairsentient. In addition, Dyan is also what is known as a voice recognition psychic and trance channel. This means that she can help her clients via telephone, which is how she conducted her readings throughout her career.
Dyan is the author, developer and artist of Voice of the Angels - A Healing Journey Spiritual Cards. This is a thirty card deck of angel cards based upon scenes from A Healing Journey Guided Fantasy. Each hand illustrated card has its own channeled message in rhythmic quatrain verse from the angels. Free angel card readings are available on her main website. A journal is available separately as an integrative tool for use with the cards and a meditation journal is available for use with the CDs.
Dyan writes the Daily Channeled Message which posts on her website. Recently she authored The Book of Daily Channeled Messages which is a compilation of inspirational angelic messages to be used for daily guidance or as a bibliomancy tool.
Her book Voice of the Angels Cookbook - Talk To Your Food! Intuitive Cooking is an adventure in opening one's creative centers and communicating with your food so it can transform from raw ingredients into what truly nourishes you on every level.
In 2005 she created a CD series of instrumental music and meditation for Automatic Chakra BalanceTM, self-healing, relaxation, and vibrational attunement of mind, body, and spirit. Each CD is available separately, as well as together in a gift basket, and contains several tracks of relaxation music plus a guided meditation on the last track. The CDs have earned the National Health & Wellness Stamp of Approval.
Her new CD of instrumental relaxation music "Release" was released in late September 2007. Dyan's music can be heard nationally and internationally on numerous radio stations. "Release" recently charted at #3 on Music Choice's cable TV music channel Soundscapes and is currently nominated for New Age Reporter's "Best Relaxation/Meditation Album of the Year" and "Best Cover Art." "Illusions" recently charted at #1.
She is a frequent radio guest on the Jay Grayce show at Tribeca Radio in New York City and has been interviewed by numerous other radio hosts. Recently, Mystic Pop Magazine interviewed her for their January/February issue. Living In Style TV featured her products in their 2007 holiday show.
Dyan Garris is the author of Voice of the Angels Spiritual Cards, The Book of Daily Channeled Messages, Talk To Your Food! Intuitive Cooking, and Fish Tale of Woe - Lost at Sea. In 2005 she created a series of music and meditation CDs for healing, Automatic Chakra Balance,TM and vibrational attunement of mind, body, and spirit.
**A few words from Dyan Garris**
Flash
by Dyan Garris
Flashback circa 1993. Like Merlin in his crystal cave, I am surrounded by shimmering multi-colored faceted crystal as I sit at my desk designing a piece of jewelry. The sunlight flows in like liquid gold from the window, plays on the sparkling gemstones, and sends the gift of radiant rainbows all around me. I am surrounded and give up. It is awesome beauty and the magic of the universe at its finest. I breathe it in deeply.
As I am bathed in this pure magnificence, I hear, feel, and sense a presence. This is nothing new or frightening to me, as I am a clairvoyant. I listen quietly as many voices converge into one and these too, I breathe in. I remain still because I know that in the center of that silence is the Truth. I am being asked to write something down. I step over to the computer and begin to write what is soon flowing as smoothly as honey.
I am writing a "journey." It's a healing journey. We begin on an island and we pass through several colorful doors and cross a bridge. There is a beautiful blue river and a raft that has no oars. We put the raft in the water, climb in, and float trustingly, since we cannot control where we are going. I feel as if I have visited this place somewhere in time. It feels that real. We play in the waterfall of rainbows, meet the friendly dolphins and receive a gift from them. We leave our troubles in the peaceful clearing and we encounter our guardian angels. The sheer beauty of the journey almost brings me to tears. We look into the mirror and receive answers to our deepest and most puzzling questions. We connect with the light; and when we emerge from this peaceful journey, we return with our whole selves. Yes, I think I have been to this place. It's as if I'm remembering and bringing that imagery back here.
Flash forward to the present moment. "A Healing Journey" was the beginning and foundation of my current body of work. From that healing journey evolved a deck of angel cards, Each card has its own message from angels in rhythmic quatrain verse and each card is based on a scene from that journey. Then eventually one by one came all of the other tools in the toolbox that I'm almost done building. Six music and meditation CDs for chakra balance and for relaxation and connection to inner wisdom evolved in 2005 and 2006. Words and music flowed like manna from heaven. In 2007 my CD "Release" was born. It is eleven tracks of relaxation music for the purposes of releasing whatever is stuck and keeps one from moving forward on the path. Each CD vibrates progressively higher and "Release" vibrates to the seventh chakra.
Along the path came a journal to use with the cards and one to use with the CDs. And then came other books, each also vibrating progressively higher. At the top of this is "Money and Manifesting," which teaches people how to unblock their core energy for manifesting. There are two more items that go into the toolbox and very soon it will be a complete system that people can use for spiritual growth and transformation.
As I created this healing journey out of one rainbow filled moment, I lived it in every sense of the word. I pondered many times what it all really meant. I contemplated the bigger picture. In that process I came to have in my possession several keys, which I now share with you. In order to be truly happy and in order to really manifest anything, one must move everything out of their way that blocks their path; and one must learn to align one's will with universal will. This is what gives us the ability to co-create with the truth of our spirits, rather than demand, like petulant children, that things show up in our lives just because we want them. Our lifetimes here are like a flash in a moment of time. Live like the shining light that you are. Everything here is a learning process, a process of remembering, a process that brings us full circle. It all truly is a healing journey.
**A chance to win and a special class**
Each person who posts a comment on any or all of the blog tour spots will be entered in a random drawing for a copy of Dyan Garris' CD – Release. In addition – the blog owner that hosted the winning commenter will also win a free copy of Release. Share your thoughts and comments with Dyan. She will check in throughout the day to answer questions. You'll learn more and you have a chance to win a CD.
Her website is full of great details about all of the items within her "toolbox" and there are many special features. She provides the tools you need to have a full and happy life – http://www.voiceoftheangels.com/ and it's not as hard to achieve as you think. Visit Dyan's Amazon profile for links to many of her products - http://www.amazon.com/gp/pdp/profile/AYREZNHQDLRFM/

Posted by joyceanthony at 9:07 AM EDT