For the next three days, we will be getting a chance to learn more about author Karen Salnabsohn abd her recent work, The Bounce Back Book: How to Survive in the face of adversity, setbacks and losses.
Karen Salmansohn is an ex Senior VP ad creative director (at age 26) who left her job to pursue her passion of writing – and is now a best selling author with over 1 million books sold, with titles including HOW TO BE HAPPY DAMMIT; ENOUGH DAMMIT; BALLSY:99 WAYS TO SCORE EXTREME SUCCESS — and now her newest book, THE BOUNCE BACK BOOK:HOW TO THRIVE IN THE FACE OF ADVERSITY, SETBACKS, AND LOSSES.
Journalists call Salmansohn DEEPAK CHOPRA MEETS CARRIE BRADSHAW because she merges empowering psychology with edgy humor and stylish graphics. Basically, she creates self help for people who would never be caught dead reading self help books.
From 2007 to 2008 Karen interviewed brilliant minds in lively conversation on the famed SIRIUS radio show BE HAPPY DAMMIT onLime 114 (M - Fr., 8am -9am, EST) - which merged the best of Oprah with Jon Stewart with NPR.
She blogs regularly on huffingtonpost.com, and writes a popular business column for amNY newspaper called "The 1 Minute Career Therapist." Plus, she is an ongoing relationship expert for msn.com, match.com and Lifetime TV – and an ongoing career coach for AOL (alongside luminaries Tom Peters and Brian Tracy).
She regularly gives seminars on topics like how to increase happiness, productivity, resiliency and/or harnessing fun as a high performance fuel. Seminar clients include: Unilever, Motorola, Princeton Club, Media Bistro, Learning Annex, How Design Conference, GenArt, French Connection Stores, LifeMoxie, Women's Economic Power Day, Bendhal's Girls Night Out, AIGA, NAWBO Conference, Ladies Who Launch, United Jewish Federation, 92nd Street Y, Indigo, Social Diva, Aqua Beauty Bar, Symbol Technology, Jackson/Lewis Women's Employment Law Conference, etc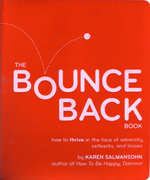 A bad breakup. A serious illness. The loss of a job. Life has a habit of throwing people curveballs. To which Salmansohn says: "When life throws you curveballs, hit them out of the park," and tells readers just how in The Bounce Back Book - which has a symbolic red rubber cover on the outside, and inside tips on how to thrive in the face of adversity, setbacks, losses, divorce, bankruptcy, assaults, illness, miscarriage, death, layoffs, slander - you name it. Salmansohn draws from the latest happiness research, resiliency psychology and even Greek philosophy, to create 75 potentially life-changing tips on how to bounce back , each on a spread that's as punchy in look as it is powerful in message: "Don't just write a 'To Do List', write a 'To Be' List," "Turn Negativity into Nuggetivity" and "Feeling Means Your Healing Means Your Dealing."
Posted by joyceanthony at 1:00 AM EDT
Updated: Wednesday, 11 June 2008 1:02 AM EDT