Visiting With Mystery Author Patricia Guthrie
Topic: Blog Tours
This week I have a real treat for everyone. We will be visiting with author Patricia Guthrie. Today I will present you a brief look at this wonderful lady and her latest book, In the Arms of the Enemy. Tuesday, you'll get a chance to read the first chapter of this book and Wednesday is a double treat--and interview with Patricia Guthrie and a live chat from 8-10 PM EST. Thursday will end our visit with my review of In the Arms of the Enemy. I hope you enjoy our visit!
Patricia Guthrie
lives in the south suburbs of Chicago and writes romantic suspense novels. She has been a mystery lover since her baby-sitting days when she always had an Agatha Christie novel in hand, and scared the living daylights out of herself.
So far, she has completed four novels and is working on a fifth. Pat has numerous short stories of various genres published in the Skyline Literary Magazine and has several nonfiction articles published in the Cassette, a national magazine for collie fanciers.
Backed by a Masters Degree in Music, Pat's former life consisted of singing in opera houses in the US and Europe. Not satisfied with the insecure life of an opera singer, Pat decided to go into teaching music in Chicago. She taught at a school for emotionally disturbed children before transferring to the public school system, where she taught music in the inner city. Recently, retired from teaching into writing full time, Pat transferred her skills from the performance arena to the computer where she now creates her own stories.
She has a lifetime love of horses and dogs who (for some reason) keep popping up either as the subject of novels or as minor characters, no matter what the topic.
Collies are a central figure in Pat's life. She's trained and shown them in obedience and rally obedience trials in the Midwest and Canada. Her dogs have also earned their Herding Instinct
Certificates, trained in agility and participated in backpacking and dog-walks. As therapy dogs they've provided love and support for the physically disabled, emotionally disturbed and adults with schizophrenia.
Horses became a central part of her world some thirty years ago (is it really that long?). She's gone through one birth-one death, breaking, training, riding and showing; getting dumped, stepped on, bitten and frequently becoming "horse poor."Thinking back to all the war stories, good and bad, she's loved every minute of it.
Her novel "In the Arms of the Enemy," soon to be released with Light Sword Publishers, involves three areas Pat loves the most: mystery, romance and horses. This story is about getting justice for animals who can't protect themselves.
Pat is a member of Romance Writers of America, Chapter 89 RWA Northwest Indiana, and Sisters in Crime, and she has participated in numerous workshops with authors like Debra Dixon, Alicia Rasley, Deborah Hale, Margie Lawson, Joanna Wayne and Sue Viders. She also gives workshops to small groups, hoping to pass along what she learns to others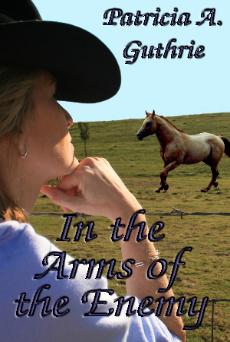 Who killed a champion race horse and his
trainer?

When the system fails him, horseman Adam Blakely goes undercover to search for a killer. He thinks he knows just where to look. Only problem—he falls in love with his prime suspect. Maggie McGregor leaves the back stabbing world of horse racing determined to never train again, until a
handsome boarder moves his horse into her father's barn. And that's when the accidents begin—
Maggie and Adam find themselves drowning in a sea of deception and lies and uncover an insurance scam so insidious it will rock the foundations of an established horse racing empire and bring the killer too close to home. Adam and Maggie must learn to trust each other before they face extermination.
Posted by joyceanthony at 3:07 AM EDT