From Dons to Dragons to Leaps of Faith
Topic: Blog Tours
There is just so much I want to share with you guys that for the next week, I will be featuring at least two authors/books a day. There is something for each and every one of you-the variety is wonderful. Please stop back often and enjoy your visits!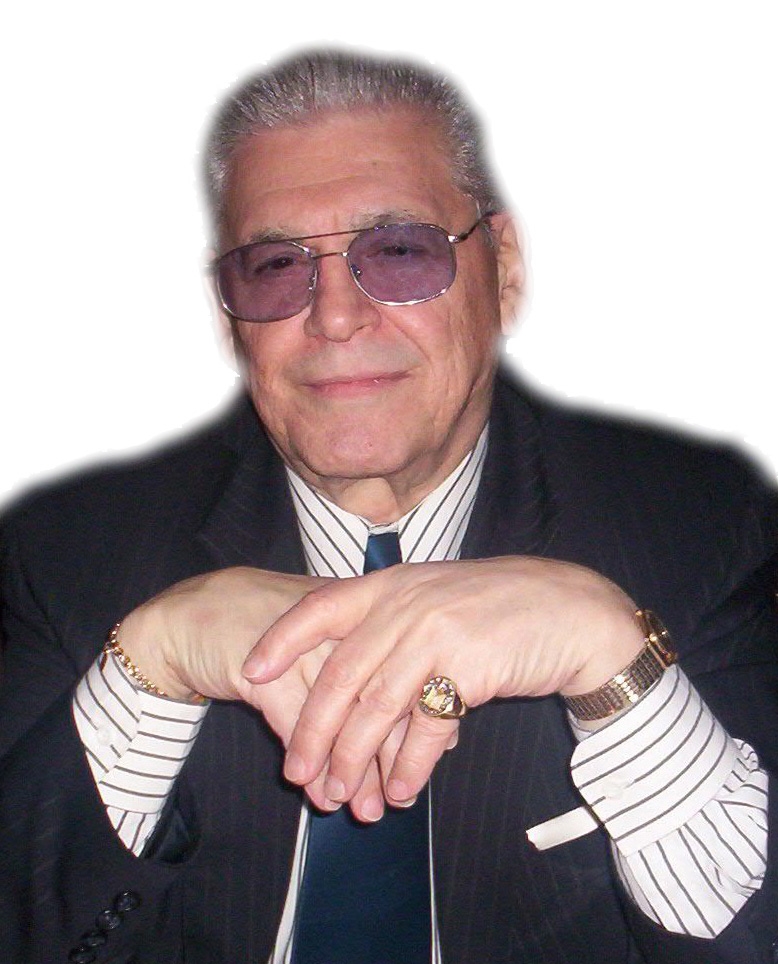 Tony "Tony Nap" Napoli is the son of one of the most powerful and respected organized crime leaders of the modern era. His father was a mob kingpin who ruled over the largest gambling empire in America for almost 40 years. Tony grew up in Brooklyn and has had a checkered life as a soldier, a boxer, an enforcer, a casino boss, a fugitive, and a hustler. Finally, after a brutal attack against a young man who sexually abused his daughter, Tony was sentenced to a period at a VA hospital. During these years, Tony cleaned himself up, successfully completing a sobriety program, becoming pivotal in the rights-for-veterans movement, and helping former boxers get counseling and other services.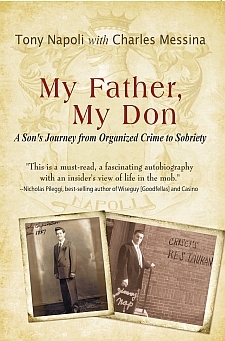 Tony "Tony Nap" Napoli is the son of one of the most powerful and respected organized crime leaders of the modern era. Tony's father was Genovese Family Capo, James "Jimmy Nap" Napoli—a mob kingpin who ruled over the largest gambling empire in America for almost 40 years.
Tony's autobiography is a bold recounting of the confidential world that he and his father inhabited. In candid, no-holds-barred language, Tony describes his life as boxer, army soldier, enforcer, casino boss, fugitive, hustler, and offspring to one of the most powerful mobsters of the century.
His story is not only about the spellbinding dealings of the Napoli empire, but also—and equally important—the singularly cherished relationship he had with his father, his don. Tony Napoli's rollercoaster account of family legend and organized crime followed by his turnaround focus on sobriety and civic contribution is a narrative of our time.
Visit Tony's website for a Napoli photo gallery - http://www.napoli.beckhamhouse.com/
Book for sale here: http://www.napoli.beckhamhouse.com/#
******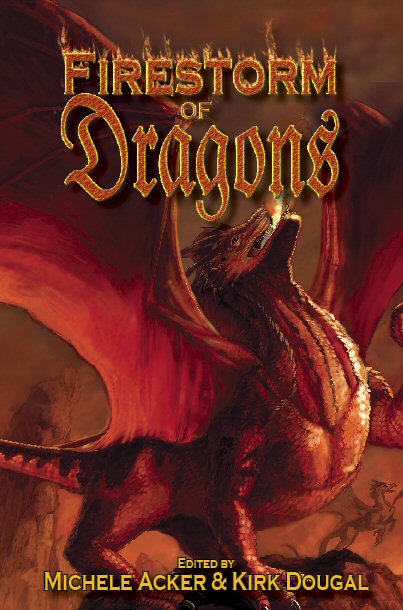 So you want to know about dragons?
Read this new collection of short stories revolving around dragons!
Run the gamut of stories about the mythological beasts in a "Firestorm of Dragons." Humorous tales of extreme sports with genetically engineered animals and pesky door-to-door salesmen with scales exist beside conventional stories of treasure and deceit, hunter and hunted, hatred and sacrifice.
See how dragons exist today without most humans noticing or abandon all preconceived notions and imagine a dragon as a 1940's-style detective. Let your experience with dragons end with a trio of stories depicting possible ends to dragonkind – one uplifting, one poignant, and one heart-wrenching in its melancholy.
Firestorm of Dragons Edited by Michele Acker and Kirk Dougal Dragon Moon Press
Trade paperback / ISBN-10: 1-896944-80-8 / ISBN-13: 978-1-896944-80-7 / 256 Pages / $ 19.95 US
*****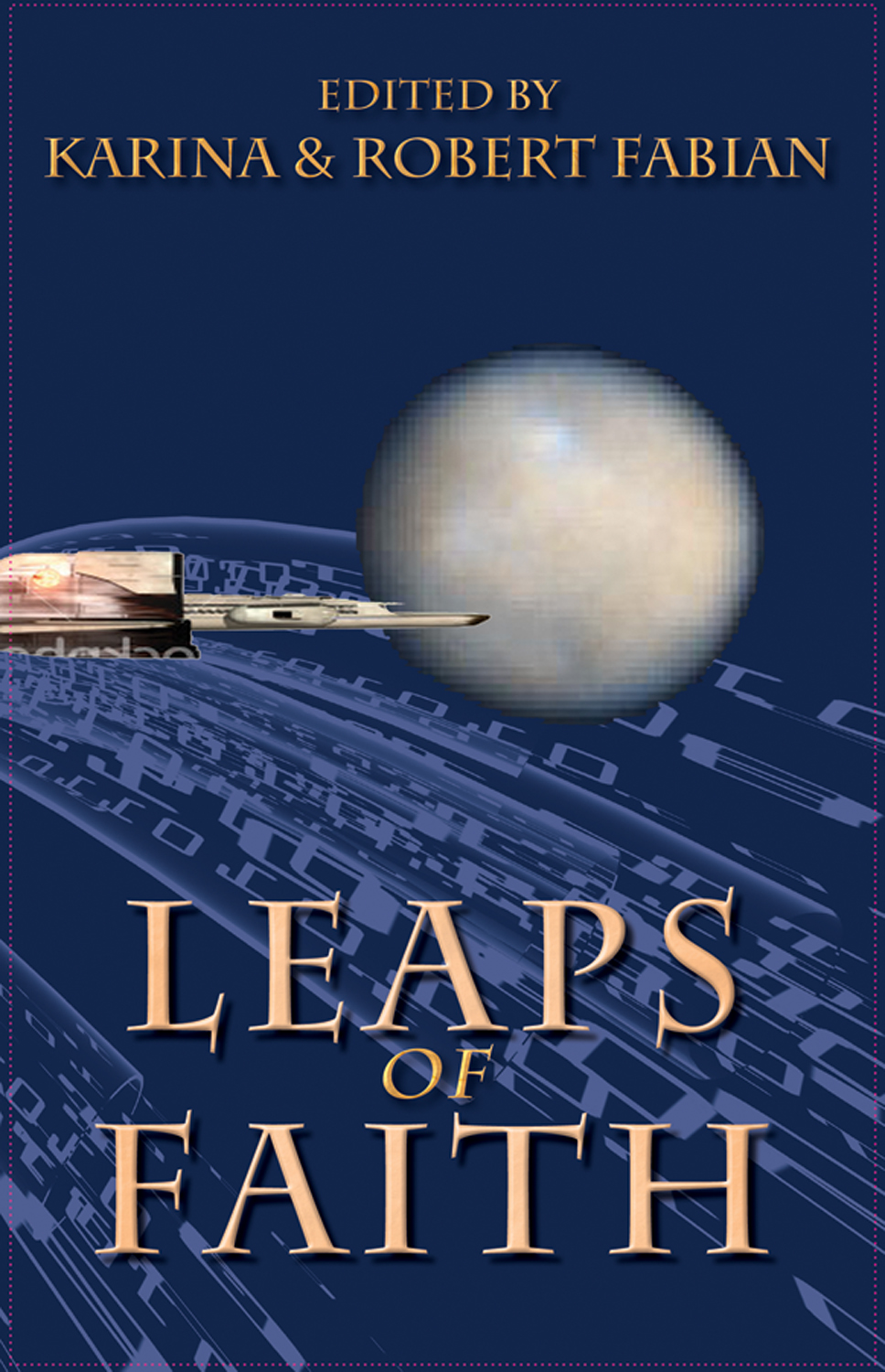 The 15 stories in
Leaps of Faith
cover the entire spectrum of the SF genre, showing the positive relationship between science and religion.
Space Exploration: In "High Hopes for The Dead," we see Christian evangelism though faithful example of Luke "High Hopes" Kittery, a member of a band of space explorers for whom every trip is potential suicide. "Quantum Express" examines the status of one's soul when the body is destroyed and reassembled through teleportation. In "God's Gift," faith is the key to preventing insanity brought on by a new method of interstellar travel. "Leaps of Faith" highlights the new industry of space search and rescue though the intrepid nuns of Our Lady of the Rescue. In "Confirmation," harvesters of an exotic space fuel suspect they're harvesting intelligent life--or perhaps the angels themselves.
Encountering Alien Life: "Lost in the Translation" chronicles the trials of a monk trying to evangelize to an alien species for which death results in corporeal rebirth. In "Lost Rythar," evangelists seek to bring the Word of God to long-forgotten human colonies. In "Sometimes We Lie," evangelism takes a bizarre turn when a native born being tries to spread an ancient human faith. Fr. Wren wonders if a sentient tree-creature can marry into the Catholic Faith in "The Convert," while Fr. Travener faces persecution by ministering to sentient androids in "Comprehending It Not."
Hard SF: An astrophysicist find the face of God in the stars of the universe in "The Smile." God is a proven fact in "The Faith Equation," leaving the question of the role of belief. "The Relics of Venice" combines genetic engineering and love to create a miracle.
Time travel: In "Tampering with God's Time," time travelers find they cannot change the timeline, but are themselves change as they encounter Christ personally, while in "Moses Disposes," King Solomon deliberately uses time travelers to bring the Bible to future generations in an idiom they can understand.
*****
Author, Susanne Knight is one of the authors featured in Leaps of Faith. She was kind enough to grant me an interview and I share those words with you now :-)
Susane Knight the person:
1. What three words do you think describe you as a human being?
That's a tough one! How about, Sensitive, Silly, and Sweet?
2. How do you think others would describe you?
Even tougher! Perhaps Intense, Intuitive, and Interesting.
3. Please tell us what you are most passionate about outside of writing.
Family time, relaxing vacations, dancing, computers, good movies, sleeping, and a glass of merlot at night!
4. Do you have any pets? If so, introduce us to them.
My cat is a big, burly Siamese who spends his free time "sunning" himself under a desk lamp next to my computer. He also helps me with my writing. If I'm stuck on a certain situation, I like to ask him what he thinks should happen next! Gato or Gatto (I haven't decided whether he's part Spanish or part Italian) usually is sleeping, and jumps when I raise my voice. If I persist, he twitches his tail in annoyance. While he doesn't specifically give me an answer, by taking this "time-out" I seem to get ideas on how to solve my dilemma. BTW, my cat is the inspiration for the feline in my paranormal romantic suspense, Competitors! In this novel, the cat's name is Eins (number one in German) because he thinks a lot of himself. :))
5. What is your most precious memory?
My most precious memories have to do with my daughter, especially when I first found out I was pregnant, and the day she was born and I saw her for the first time. Lovely!
6. What is your most embarrassing memory?
Too many to mention. I'll narrow it down to having to give a speech using a voice recovering from laryngitis. Pitiful!
7. If you weren't a writer, what would you be doing with your life?
Probably I'd be going crazy! Writing is so much a part of my life, I can't imagine what it would be like without it. I enjoy all aspects of writing, be it novels, short stories, or even business letters! For me, the next best occupation would be working as a librarian then, so I could be around books.
8. In two paragraphs or less write your obituary.
Ouch! That's a place I don't want to go yet! But I'll give it a try.
Susanne Marie Knight, award-winning author of a gazillion novels, has finally graduated to the next level. Intent on researching that great beyond she'd heard so much about, she took the plunge and crossed over to the other side. One of her greatest hopes, she told her great-great granddaughter before passing on, is to learn all the secrets of the universe, including what, exactly, is the universe expanding into, and who killed President Kennedy? Susanne will be greatly missed on this plane.
Susanne Knight the writer:
9. Can you describe the time you realized you were indeed a "real" writer?
I guess I felt validated as a writer when I no longer got those boring rejection slips. And when I received my first fan letter, well, that was a thrill I'll never forget! Plus, the day I found out I had *three* nominations for the prestigious EPPIE Awards in one year. Wow! I've also been blessed by having The Coming win the Dream Realm Award for Best Speculative Fiction Romance, and Janus Is A Two-Headed God win the Preditors and Editors Reader Poll for Best Science Fiction Novel. In addition, I'm a six-time EPPIE Award Finalist. What a fantastic rush!
10. What is going on with your writing these days?
I've just finished my latest book titled ForEvver. a science fiction novel where time is running out.... My next project will be a murder mystery series with continuing characters. I've also got a Regency planned, and sometime in the future, I'd love to do a book with dolphins.
11. What are your future goals for your writing?
One of my writing hopes is to complete a new book every year. These past few years have been so busy that I haven't been able to accomplish this. Also, every year I hope to write a few short stories for publication. By five years, I hope to be well established as a successful author. In ten years, I'd like to have my works sited in college classes. :)) I've already been sited on Yahoo! Answers as an expert! My ongoing goal is to increase the readership of my books. In any case, my mission is to continue to bring entertainment, adventure, and rollicking good fun to all my fans!
12. Can you describe a typical writing day for you?
I need to write when I have the most energy flowing so I schedule my writing time for the mornings--usually three days a week. Life has been rather crazy lately, (!) so I haven't been able to write much. Fingers crossed things will calm down soon. <g> What's best for me is to have a solid block of time so I can "lose" myself in the story. The first thing I do when I sit at the computer is read over the last scene or chapter that I wrote. This is to get back into the story. Then I start with the new writing. My goal is to continue until I finish a scene or until a new character enters the mix. Then I'm done writing for the day.
13. Why do you write?
For me, writing is a form of fantasy--a chance to live vicariously by experiencing things perhaps I've only dreamed about. Where else can I travel to the center of the galaxy, journey back in time, or hold conversations with a Shakespeare-quoting ghost and still be home in time for dinner?! I write to express myself, to tell stories, to see how my characters interact with each other, to discover a compelling tale. I love to stretch my limits and see if I can deliver on a plot or theme--perhaps in a different genre.
14. What writer most inspires you? Why?
Writers--I can't dwindle it down to one. I still admire the authors I read as I was growing up. For powerful stories that stretch the imagination, I thank Isaac Asimov and Robert A. Heinlein. For the elegance and charm of Regencies, I'm indebted to Georgette Heyer. For the challenge of a juicy murder mystery, I applaud Agatha Christie. Also, I admire Stephen King on his story-telling ability, his willingness to experience the world of electronic publishing, and his determination to overcome a horrific accident.
15. How do you define your writing?
I'm a self-confessed incurable romantic... and so is my writing. When I was growing up, the one thing I thought that was missing in most novels I read was romance--romance wasn't heavily emphasized. So when I started to write, I had to add my own dash of "happily ever after." I'm very fortunate because I combine romance with the genres I'm interested in: Regency, science fiction, suspense, paranormal, mystery, contemporary, and fantasy. These are all my favorites to write and to read. My motto is: Romance Writing with a Twist!
16. In one sentence-what do you want people to say about your writing in fifty years?
Not only does Susanne Marie Knight deliver on her motto, Romance Writing with a Twist, her novels have staying power as well!
Susanne Knight the details:
17. Can you tell us where to find more information on you? Website? Blog?

The best place to learn more about my books and me is to visit my website: http://www.susanneknight.com/ and my blog: romancewritingwithatwist.blogspot.com. My books are sold at a variety of places including amazon.com, fictionwise.com, and my publishers: awe-struck.net, uncialpress.com, wings-press.com, and lionhearted.com. I also have a newsletter and a monthly news flash. To sign up, email newsletter@susanneknight.com, and please put "Subscribe" in the subject line.
18. Is there a place where readers can reach you?
Emails are best. One of my addys is: knight2writer@yahoo.com. Please be sure to write the reason for your email in the subject line. Those spam emails are getting too crazy, aren't they??
19. Can you list all your book titles so people can look for them?
Gladly! Here are my current titles:
*Sojourn Through Time, 2008
Awe-Struck eBooks, http://www.awe-struck.net/
*The Wakefield Disturbance, 2008
Uncial Press, http://www.uncialpress.net/
*Regency Society Revisited, 2007
Awe-Struck eBooks, http://www.awe-struck.net/
*A Continental Marriage, 2007, Golden Wings Award Winner
Wings ePress, http://www.wingspress.com/
*Janus Is A Two-Faced Moon, 2007
Awe-Struck eBooks, http://www.awe-struck.net/
*Competitors!, 2007, Dream Realm Award Finalist
Awe-Struck eBooks, http://www.awe-struck.net/
*Have Christmas Card... Will Travel, 2006, EPPIE Award Finalist
Uncial Press, http://www.uncialpress.com/
*Lucky 13 (anthology), 2005
Fictionwise.com, www.fictionwise.com/eBooks/SusanneMarieKnighteBooks.htm
*The Contrary Contessa, 2004, EPPIE Award Finalist
Awe-Struck eBooks, http://www.awe-struck.net/
*The Coming, 2004, Dream Realm Award Winner
Awe-Struck eBooks, http://www.awe-struck.net/
*Past Indiscretions , 2004
Awe-Struck eBooks, http://www.awe-struck.net/
*Alien Heat, 2003
Wings ePress, http://www.wingspress.com/
*Timeless Deception, 2002, 2006, P.E.A.R.L. Award Nominee
Awe-Struck eBooks, www.awe-struck.net
*The Reluctant Landlord, 2002
Wings ePress, http://www.wingspress.com/
*Love At The Top, 2002, 2005, EPPIE Award Finalist
Awe-Struck eBooks, http://www.awe-struck.net/
*The Magic Token, 2002, EPPIE Award Finalist
LionHearted Publishing, http://www.lionhearted.com/
*Janus Is A Two-Headed God, 2002, EPPIE Award Finalist, Preditors & Editors Award Winner
Awe-Struck eBooks, http://www.awe-struck.net/
*Grave Future, 2001, 2006
Awe-Struck eBooks, http://www.awe-struck.net/
*Tainted Tea For Two, 2001, 2006, Ariana Award Winner
Uncial Press, http://www.uncialpress.com/
*Lord Darver's Match, 2001
LionHearted Publishing, www.lionhearted.com
**Coming soon: Paging Miss Galloway, 1/2009, Awe-Struck Regency Winner
Most of my titles are available at Amazon.com in print and also Fictionwise.com, http://www.fictionwise.com/eBooks/SusanneMarieKnighteBooks.htm, in ebook.
20. For new readers-what can they expect when they read your book(s)?
Very often people like to compare authors with other writers they have read. Each writer is unique, but one reader was reminded of P. G. Wodehouse's work when she read my Lord Darver's Match, and a reviewer likened Janus Is A Two-Headed God to Arthur C. Clarke's books. Also, with The Reluctant Landlord, one reviewer compared me with Regency greats Mary Balogh and Carla Kelly! This is very flattering, however I feel I have my own style and passions. I like to write about things that are out of the ordinary. To develop stories, I love to play the "what if" game. Here are just a few examples: What if "having a nice spot of tea" took on a sinister meaning? (Tainted Tea For Two) What if a Shakespeare-quoting ghost found a way to avenge his death? (Grave Future) What if a golden coin had the power to change one's fortunes? (The Magic Token) What if a woman wakes up in the year 1818 with a dreamboat husband only to learn he absolutely despises her? (Timeless Deception) There's a lot more... but you get the idea!
In conclusion:
21. Take as much space as necessary to speak to our readers-what would you like them to know about you and your writing?
The most rewarding part of writing is receiving feedback from readers. It's always a thrill and an honor to hear how my writing has touched people's lives. One reader said not only did she reread my time-travel Regency, Timeless Deception, but the second time while reading it, she was so engrossed she almost missed her train stop! And a fan wrote to tell me how much he enjoyed Past Indiscretions because I "cleverly bring together the past and mythology." I also just received a letter from a reader in Massachusetts telling me how I deeply inspired and motivated her to write her own stories. Also, how I helped her to realize how reading and writing could be so much fun! There is no greater honor! To hear how your book touches a reader's heart is the ultimate compliment, and all fan letters are GREATLY appreciated. I hope you all enjoy my books and I wish everyone a happy and healthy holiday season.
Thank you, Joyce, for this wonderful opportunity to connect with your readers!
Posted by joyceanthony at 6:11 AM EST