A Visit with Chris Verstraete
Topic: Blog Tours
Chris Verstraete combines her love of miniatures in her writing when possible. Over the next couple of days, we will be getting to know Chris beter and taking a look at Searching for a Starry Night and Witch Tree. Please join us on this visit.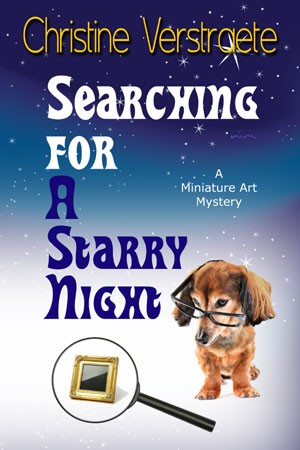 "Searching For A Starry Night" ISBN 9781590805794
Isn't that an adorable cover??
Asked what inspired this book and Chris said: I collect dollhouse miniatures and thought it'd be a unique, interesting addition to the mystery field to focus on miniature art.
Christine Verstraete
Searching For A Starry Night, A Miniature Art Mystery (Ages 10+)
From Quake/Echelon Press - www.quakeme.com ISBN 978-1-59080-579-4
Buy at: Amazon.com
http://www.amazon.com/Searching-Starry-Night-Christine-Verstraete/dp/1590805798/ref=sr_1_1?ie=UTF8&s=books&qid=1212111273&sr=1-1
(Also at Books-a-Million.com, Barnes&Noble.com, Palm, Fictionwise. See links at http://cverstraete.com/Starry_Night.html) or ask for it at your favorite bookstore.
Blurb:
Samantha Ann Carlton would rather spend her summer vacation anywhere but a spooky old house in Wisconsin...like Lake Geneva!
Somehow Sam knows it is going to take more than a couple days to find a missing painting no bigger than her hand. But maybe things won't be so bad, she thinks, since she gets to take a friend's lovable, nosy, and often mischievous Dachshund, Petey, and her best friend, Lita. If they're lucky, the three of them can find the miniature replica of Van Gogh's "Starry Night" and help Sam's mother get it to the museum, where it belongs.
It's not going to be easy, Sam realizes, when she discovers that her family has some spooky secrets. Then Petey digs up an ancient curse and Sam fears her friendship with Lita is doomed.
Can Sam find the miniature masterpiece before it's too late? Will she and her best friend go home forever friends - or enemies?
***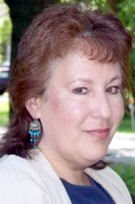 Christine Verstraete thinks you're never too old to play with dollhouses, so when she's not writing, she is probably working on a new miniature project.
Christine also is an award-winning journalist whose stories have appeared in various newspapers and magazines. Her short fiction has been published in print and online.
Her short horror story, "The Witch Tree," was a contest winner published by Echelon Press. She also is author of the e-book, "In Miniature Style," with stories about collectors, photos of their miniatures and how-to projects.
Check out more of Christine's miniatures and writing at http://cverstraete.com and at her blog, Candid Canine, http://candidcanine.blogspot.com and www.myspace.com/cverstraete
Posted by joyceanthony at 2:08 PM EDT
Updated: Sunday, 2 November 2008 9:49 AM EDT