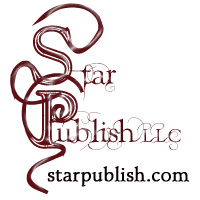 Storm was published by Star Publish and I was thrilled for I knew if Star accepted my manuscript, it was good!
StarPublish has some of the finest authors of today and their books cover so many genres, everyone is bound to find something they enjoy reading.
Please take some time to visit the authors below and see what they have to offer. You won't be disappointed!!
Cate Cavanagh
Brian Doe and Phil Harris
Lance Davis
Peggy DePuydt
Allyn Mitchell Evans
Lester Goldberg
Mark Haeuser
Carolyn Howard-Johnson
Cal Hunter
Janie Lancaster
Epstein LaRue
Muriel Lindsay
Alta Lyon
Monte Lyon
Catherine MacDonald
T.C. McMullen
Kristie Leigh Maguire
Susan Merson
Cora Miller
G. M. Masterson
Joseph O'Steen
Laura Peter and Jule Selbo
Georgia Richardson
Greg Sauzier
Lea Schizas
Janet Elaine Smith
Robin Westmiller
Billie A. Williams
Brad Windhauser
Sam Zane
Linda Ballou