Searching for A Starry Night----A Review
Topic: Book Review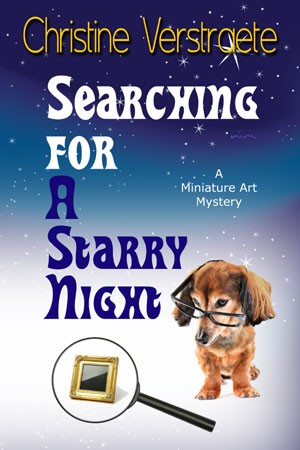 When Sam, her best friend and her mother undertake to catalogue the possessions of her deceased great aunt, the two younger girls are not particularly thrilled. Who wants to spend warm summer days going through old jewelry and paintings hardly bigger than an average postage stamp?
The two girls soon discover that the paintings are more interesting than they had believed-and that there is a mystery just waiting to be solved. The miniature painting of Van Gogh's A Starry Night has been replaced by a not-so-great imitation and the two best friends set out to find the original.
Searching for a Starry Night is a YA mystery in which Christine Verstraete cobines her love of writing with her love of miniatures. I found myself captivated by not only her realistic characters, but also the mystery.
Ms. Verstraete teaches the reader some interesting facts about the world of miniature art and art in general, without the reader realizing they are learning. I felt her excitement for the subject coming through her words. Her exitement caused me to keep reading in order to learn more and to find out what happened to the original picture. This is one mystery I did not solve before the characters!
Christine Verstraete has writen a book I not only would not hesitate to give as a gift to young adult readers, but would consider presenting to adults as well. Her characters are well-developed, her mystery intriguing and her writing style fresh and easy-flowing. I look forward to more works from this wonderful author.
Posted by joyceanthony at 7:28 PM EST