The Slippery Art of Book Reviewing
Topic: Blog Tours
A book review is easy to write, correct? You say I liked it or I hated it and add a reason why-nothing to it. Besides, nobody actually pays atention to book reviews. Wrong!
Book reviews have swayed many a reader toward buying abook, or walking away. Book stores, libraries and a majority of readers like to know what people think of a book-it helps them decide whether it is worth the price of purchase or not. In order to write an effective review, certain elements should be included--and others avoided
My guest over the next few days will be Mayra Calvani, co-author of The Slippery Art of Book Reviewing. Multi-genre author Mayra Calvani has been a reviewer for ten years. She's the author of the supernatural thrillers, Embraced by the Shadows and Dark Lullaby. A regular contributor to Blogcritics Magazine, she's also a member of Broad Universe, Authors Coalition, and The Society of Children's Books Writers and Illustrators. Visit her website at: www.MayraCalvani.com. For her children's books, visit www.MayrasSecretBookcase.com. Mayra also keeps a blog, The Dark Phantom Review, where she regularly posts reviews and author interviews.
Let's take a look at a short synopsis of The Slippery Art of Book Reviewing: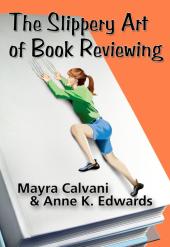 Are you passionate about books? Do you have the desire to share your thoughts about a book with readers, yet are unsure about what makes a good review? Are you curious about the influence reviews have on readers, booksellers, and librarians?

If you're an experienced reviewer, The Slippery Art of Book Reviewing will serve as an excellent reference tool and amalgam of resources. If you're a beginner, this book will show you how to write a well-written, honest, objective and professional book review. It will also teach you:
• How to read critically
• How to differentiate the various types of reviews
• How to rate books
• How to prevent amateurish mistakes
• How to deal with the ethics and legalities of reviewing
• How to tell the difference between a review, a book report, and a critique
• How to start your own review site
• How to publish your reviews on dozens of sites and even make money while you're at it, and much more
If you're an author, publisher, publicist, bookseller, librarian, or reader, this book will also bring to light the importance and influence of book reviews within a wider spectrum.
*Currently used as a text book for book writing course in Loyola College, Maryland.
*The Slippery Art of Book Reviewing will be required reading for an English course at Kent State University, Ohio, that begins mid-January 2009.
To learn more about The Slippery Art of Book Reviewing, visit

www.slipperybookreview.wordpress.com

.



Tomorrow, I will share a guest post from Mayra and let you have a peek at a partial list of the book contents.
Posted by joyceanthony at 2:32 AM EST
Updated: Thursday, 27 November 2008 2:36 AM EST