Different Roads by Joyce Sterling Scarbrough --A Review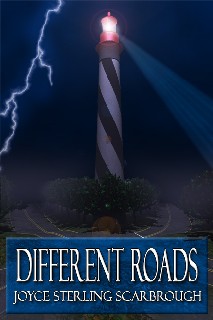 Different Roads
By Joyce Sterling Scarbrough
Published by Lightning Source Inc, 2006
ISBN 0972238530, 9780972238533
408 pages
SYNOPSIS:
How many of us wonder what might have been? After her mother's death, six-year-old Jaycee is neglected by her alcoholic father and decides she would rather be beaten than ignored. She grows up a foul-mouthed hellion who takes flack off no one, and she lives in fear of anyone finding out she is also a love-starved little girl terrified of being abandoned in the dark. Her intrepid spirit carries her forward until she is tripped up in college by a poor little rich boy who turns out to be the male version of herself. Jaycee and Bud are an emotional paradox: drawn together because they're so much alike and constantly at war for the same reason. They fight as frequently and as physically as they make love, hurting each other even as they become two halves of a whole. Jaycee's rollercoaster life with Bud is gritty, touching and funny, and just when she thinks she's made it safely to the end of the ride, her childhood and her first love come back to derail her.
REVIEW:
Rarely does a character in a book jump into my heart from the first page. Jaycee, the main character in Different Roads, written by Joyce Sterling Scarbrough, was one of those rare characters. She grabbed me from the first paragraph and hasn't let go since.
Ms. Scarbrough has a writing style that draws the reader in quickly and keeps the interest until the very end. Not one to read many romances, I was a bit skeptical at first. This is no ordinary mushy romance novel, however; the relationship between the two main characters is passionate and fraught with more twists and turns than a Class Five hurricane.
As I followed Jaycee and Bud through their relationship, I laughed loudly and cried hard. At one point I was glad Joyce Scarbrough wasn't near because I wasn't sure if I'd hug her for writing such a powerful book or strangle her for causing such an emotional upheaval within me. The characters are so real, the feelings so true-to-life, you will forget you are reading a book and actually feel you know the people involved.
This book deals with some heavy topics, but does so with skill and finesse. Ms. Scarbrough understand completely the inner workings of her characters and helps the reader understand as well. Her understanding of human nature is exceptional.
If you are looking for a mere quick read, this isn't a book for you. If, however, you want a story that draws you deeply within the story and allows you to feel the emotions fully, this is a must-read. You will not regret for one moment buying and reading Different Roads. I will caution readers--be prepared for an emotion journey unlike any you have experienced.
Posted by joyceanthony at 3:47 AM EDT
Updated: Wednesday, 20 August 2008 3:55 AM EDT