Sinner's Guide to Confession
Topic: Blog Tours
Great title, don't you agree? Sinner's Guide to Confession is the enwest creation of author Phyllis Schieber. Over the next few days, we will be visiting with Phyllis, learning more about her and this book. Tomorrow, we will have an excerpt from Sinner's Guide to Confession. Thursday, Phyllis share her thoughts on Motherhood and Friday I offer my review. Please come back for each post--and feel free to leave a comment!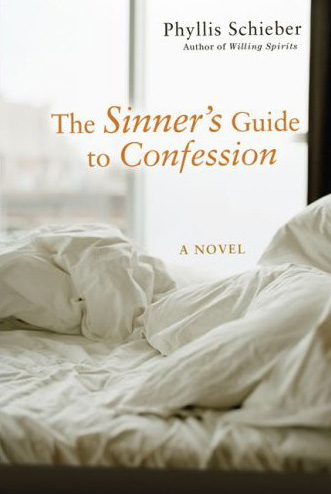 Kaye and Barbara are longtime friends, now in their fifties. Ellen, who is several years younger, develops a friendship with the other two women years later, solidifying this close-knit group. The three women are inseparable, yet each nurtures a secret that she keeps from the others.
Barbara, a widowed mother of three grown children, is an accomplished romance writer, who also has a secret persona as a celebrated erotica writer-an existence she feels compelled to keep from everyone. Kaye, a practicing psychotherapist and the mother of two, finds her marriage stable, but joyless. When she becomes involved with another man, she keeps her affair secret from her friends, too conflicted about her duplicity to expose herself. Ellen, a successful interior designer, childless and the seemingly perfect modern woman, harbors the most profound secret of all.
After her beloved husband betrays her, leaving her for a woman half her age who is also pregnant with his child, Ellen must face all her losses anew. First, there is the pain of the children she could never conceive with her husband. More importantly, however, there is the haunting memory of the child she had at sixteen and was forced to relinquish at birth. Estranged from her family, Ellen is reluctantly thrust back into contact after the death of her father, and learns that if she is ever to find her lost daughter-now a grown woman herself-she will have to confront her shame--and share her secret with her two closest friends.
***
Phyllis Schieber Author Bio
The first great irony of my life was that I was born in a Catholic hospital. My parents, survivors of the Holocaust, had settled in the South Bronx among other new immigrants. My mother was apparently so nervous she barely slept the entire time she was in the hospital, fearing her fair-skinned, blue-eyed newborn would be switched with another baby. When my paternal grandfather, an observant Jew, came to see his newest granddaughter in the hospital, he was so uncertain of how to behave around the kindly nuns that he tipped his yarmulke to them each time one passed. It was in this haze of paranoia and neuroses, as well as black humor, that the makings of a writer were initiated.
In the mid-fifties, my family moved to Washington Heights, an enclave for German Jews, known as "Frankfurt-on-the-Hudson." The area offered scenic views of the Hudson River and the Palisades, as well as access to Fort Tryon Park and the mysteries of the Cloisters. I graduated from George Washington High School. Among its famous graduates was Henry Kissinger, former US Secretary of State (my grandmother played cards with his mother at the YMWHA on Nagle Avenue).
I graduated from high school at sixteen, went on to Bronx Community College, transferred to and graduated from Herbert H. Lehman College with a B.A. in English and a New York State license to teach English. I earned my M.A. in Literature from New York University and later my M.S. as a developmental specialist from Yeshiva University. I have worked as a high school English teacher, a special education teacher, and as a learning disabilties specialist in several college programs.
Reading was the first line of defense against anything I did not want to do. "I'm reading," was an excuse my parents never challenged. Education was paramount in our home. There were weekly trips to the library, and the greatly anticipated Friday afternoon story hour. Everything about words seemed interesting and important.. I could make sense of the world if I put it on paper. I could even make the world better; people could become smarter and more attractive, and I could make people laugh and cry at will. Writng was powerful. I thought in stories, answered questions in my head and added, "she said" at the end of a sentence. I still do.
***
Win A Free Book from Phyllis Schieber - Its very easy to be entered in a drawing for a FREE book by Phyllis Schieber. Post comments on any blogs during the virtual tour and you will have a chance to win a book from Phyllis. One random person will win - but we are also asking visitors to share a secret and one secret will also win a free book. As a bonus the blog owner that hosted the winning comments will also win a book. Share some interesting stories and questions with Phyllis Schieber during her tour - and have a chance to win a book.
For full details about Phyllis Schieber's virtual tour, visit her tour home page - http://virtualblogtour.blogspot.com/2008/12/sinners-guide-to-confession-by-phyllis.html
Order Your Copy here - http://tr.im/2x1g
You can visit Phyllis Schieber at http://www.thesinnersguidetoconfession.com/ or http://www.phyllisschieber.blogspot.com/
Posted by joyceanthony at 2:03 AM EST