A Word From Lacresha Hayes--Excerpt from The Rape of Innocence
Topic: Blog Tours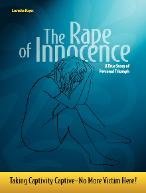 For all the things that God does here on the earth, it seems He always uses a person. God rarely uses birds to bring us food as He used ravens to feed Elijah. Most people probably won't experience manna raining from heaven in their lifetime. God uses us to minister to each other, and it is shameful for the Body of Christ not to have an answer for those who are hurting. Where can a person find the answer if not in the Church? If a person cannot trust the people in today's churches to really love them, where should they search for love?
Everyday the Kingdom of God is losing people to the streets. Children are searching for answers to their troubles. If the Church does not have the answer for these children, the streets will pacify them with a lie.
Everyday, neglected and unloved women take up the search for an answer to their pain. They search for unconditional love. The local assemblies of the saints proclaim to have the answer, yet their profession isn't backed with action. Hurting people come to church day after day and leave the same way they came. Some people come into the churches heavy hearted and burdened. They then leave disillusioned and hopeless.
Though this may not be the case everywhere, unfortunately, it is the case for a lot of people. Therefore, I lend you this advice: If you are blessed with great leadership in your home church, stay there even when you don't understand everything. The grass is probably not greener on the other side of the fence.
One of the things we don't seem to understand is that not everyone is able to endure the heartache of unfaithful and unloving Christians. For centuries, the church, as an institution, has been lifted up as a beacon of light for the hopeless, the destitute and the mournful. When people come and find it to be anything short of a loving assembly, not all of them will recover. In that case, who is guilty? We can't blame it on the devil, but must cleanse our own hearts from hypocrisy. It's okay to have a bad day or moment in life. It's a different thing to habitually practice behaviors that cause the morale of in the Church to decline.
When innocence is lost, the Body of Christ should be positioned to take in the hurting souls. It is our job to nurture people and give them back to God.
Many children have lost faith in adults. Some children are not raised with parents that understand what it is to protect their children. Some children need protection from the very people that should protect them. Some children are defenseless against the adults in their lives.
In my childhood, my problems were not with other children. My problems came from adults forcing me to grow up too fast. My problems came from men who refused to allow me a childhood. My problems came about when the people who were supposed to protect me did not do what they promised. I'm only one person. There are many more who have endured similar or worse problems.
When innocence is lost too early, a young person's world can soon deteriorate into a pit of darkness. When life seems continually dark from a very young age, hope is easily lost. As adults, we should seek to protect children, even if the children are not our own. We should foster a child's individuality while yet cultivating the attributes of Christ in them. We should provide a safe haven for children, giving them a place where they can grow into who God called them to be without fear of harm or negativity. We all have a part to play in protecting and safeguarding children since they cannot do it for themselves.
Of course, not only children are affected by the darkness in this world. Adults are just as often disheartened by the cruelty in the world as children are. For those blessed to go through life in a somewhat naïve state, the sure awakening to the brutality of life can be very disturbing. Life doesn't just happen to the unsaved, but life happens even to the saved. Life happens inside and outside of churches. Life happens to people of all ages and in all cultures. To live means to endure hardships and trials. Adults are sometimes robbed of their ability to bear up under burdens. Just like children, many adults are forced to realize that not everybody in their lives mean them well.
In my own life, many times I was dismayed at how fickle friends can be, at how phony saints can be and at how easily hurt I could be. It seemed that just as I figured myself out, a change would come. Just when I thought I couldn't cry any longer, more tears would make their way to my eyes. I found myself distraught in the world and disenchanted in the fellowship of believers. I wondered where my answer would come from. I had no role models and nothing tangible that I could grab hold of. I felt destined for history to repeat itself.
There is a terrible injustice both in the world and in today's churches, a common ground, if you will. Neither the world nor some churches like to be confronted with issues of moral decay and degradation. People hate to come face to face with any issue that shows they have been failing in their duties. It is not customary for most people to deal honestly with themselves. It's easier to deal with others from far off distances. A child marrying her teacher in another state is considered "sad and heart-wrenching", but we only shake our heads at it. It's news and nothing more. It serves as entertainment, in the crudest sense of the word. Of course, if our child marries his/her teacher, then it becomes an outrage and something must be done! How sad! Innocence is innocence, whether far off or close to home.
When innocence is lost and even beforehand, the answer is always found in Christ Jesus. No matter the circumstance or trial, we must learn to develop a relationship with God, and to introduce our children to God while helping them to build a relationship with Him for themselves.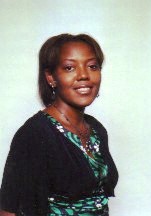 *****
Lacresha Hayes has honored us with her wonderful message the past few days. I want to thank her for being so open with everyone. We love you Lacresha!!!
Posted by joyceanthony at 1:03 AM EDT