Meet Kenny Kahn, the World's Funniest Lawyer
Topic: Blog Tours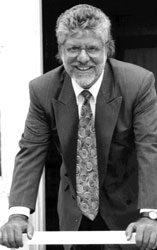 Attorney, Humorist, Lecturer, Author
Order Kenny's Book
Kenny Kahn is a prominent Los Angeles based criminal defense attorney. With a case history as colorful as his past, Kenny has become well known for representing the famous and the infamous in a career that spans three decades.
Previous clients include the irascible Hustler Magazine founder Larry Flynt, who had been charged with contempt for wearing an American flag as a diaper in court.
One of Kenny's high profile cases was later adapted into the feature film, "The Falcon and The Snowman," starring Sean Penn. Kenny represented Andrew Dalton Lee, who along with partner Christopher Boyce was accused of spying for the USSR against the United States.
Kenny's career is the unlikely outcome of a disadvantaged childhood. Kenny grew up in one of the poorest sections in East Los Angeles with his parents, both of whom were drug addicts. His father worked the old carnival circuit, always hustling and looking for new marks. "My Dad was a criminal rip-off artist and so were all of his buddies," says Kenny. Despite his fractured family life, Kenny persevered with his studies and later graduated from UCLA and Cal-Berkeley's Boalt Hall Law School.
Many years later, a mentally ill client plunged an ice pick into Kahn's chest as the two sat in a Torrance courtroom. "That was my wake up call," says Kenny, "realizing that life is short and completely unpredictable." It was soon afterwards that Kenny had the revelation that he needed to do something he had always been too afraid to try - Stand Up Comedy.
Kenny has since headlined in Las Vegas and appeared at some of the top comedy clubs on both sides of the US including The Laugh Factory, The Comedy Store, The Improv in Los Angeles, Stand Up in New York.
Looking like a lawyer in a double-breasted suit with briefcase in hand, Kenny takes the stage and delivers his comic routine based on his off beat experiences as a criminal defense attorney.
Kahn has been featured on TV shows such as the "Oprah Winfrey Show" and "CNN Showbiz Today." Radio appearances have included "CBS Network," "KABC," and "KMPC." He has been featured in print by The Los Angeles Times, Associated Press and The Los Angeles Daily News among others.
Maintaining a successful law practice by day and performing on stage at night, Kenny found the two vocations complemented each other very well. "It gave me a fresh perspective on my profession, and as bizarre as it sounds, incorporating humor into my legal work made me a better attorney."
The lecture tour Kenny embarked on is the latest chapter in the career of this anti-establishment attorney with a gift for making people laugh out loud at legalities.
In 2005, Kenny introduced his book, The Carny Kid. . Order The Carny Kid here.
***
Tomorrow, we will take a look at The Carny Kid!!!
Posted by joyceanthony at 3:34 AM EDT
Updated: Sunday, 14 September 2008 3:39 AM EDT