Mark Tewart Shares on How to Become a Sales Superstar
Topic: Blog Tours
Over the next several days, we will be visiting with Mark Tewart, author of How to Be a Sales Superstar. Sales is something each of us do, no matter what our profession. Mark shows us not only how to sell, but how to be the best salesman.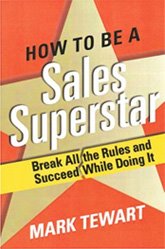 About How to Be a Sales Superstar: Break All the Rules and Succeed While Doing It

A handy guide that every sales professional or business person can use to become a sales superstar. These days, making the sale is tougher than ever. That's why sales professionals and business owners need more than just smooth talk to make it in the business. Selling is a job that requires an updated toolkit for real, lasting success. How to Be a Sales Superstar teaches salespeople all the specialized skills they need to be a superstar and shows them how to implement those skills immediately. Readers will master the people skills necessary to relate to prospects and read their meaning; the life skills needed to be successful at any endeavor; the marketing skills to draw in new customers and keep the old ones; and the sales skills to eliminate objections and close the deal.

You can become a sales superstar-and get rich doing it.
About Mark Tewart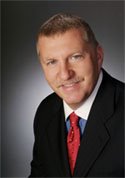 Mark Tewart is renowned expert on sales, sales marketing, sales management and creating a high performance life. Mark is a motivational speaker, consultant, coach, entrepreneur and owner of four businesses, and author of "How To Be A Sales Superstar - Break All the Rules and Succeed While Doing It" published by Wiley which is available in book stores and Amazon. Mark has spoken to over 2,000 audiences in the last fifteen years. Also, Mark has published hundreds of articles in numerous trade magazines and authored numerous books, audios, videos and online training materials. Mark has had a top ranked Satellite TV show and been interviewed by magazines, newspapers, radio and TV shows across the world.
Mark Tewart's websites include: http://www.marktewartlive.com/, http://www.marktewart.com/ and http://www.howtobeasalessuperstar.info/

To read the first chapter of How to be a Sales Superstar and to receive several FREE bonuses from Mark Tewart, visit http://www.marktewartlive.com/.
Full tour details are posted at http://virtualblogtour.blogspot.com/2008/10/how-to-be-sales-superstar-by-mark.html
Posted by joyceanthony at 12:40 AM EST