The Ethnic Presidency Revisited
Topic: Blog Tours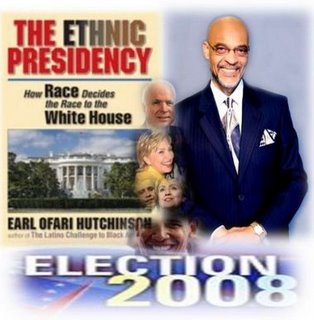 A short time ago, I had the opportunity to feature Earl Ofari Hutchinson here at Books and Authors. This election is an historice one, no matter who wins. For that reason, I wanted to tell readers again about this wonderful book, written by a man who is extremely well-versed in politics.
A New York Times Poll released July 15 found that the prospect of an Obama presidency has deeply divided black, white and Hispanic voters. A majority of Hispanics and blacks say an Obama White House will improve race relations. A majority of whites say it won't. In his book, The Ethnic Presidency: How Race Decides the Race to the White House, noted political analyst Earl Ofari Hutchinson predicted that race would be a decisive factor in the presidential race.
Hutchinson said that the New York Times poll validated many of the key points and predictions in his book, The Ethnic Presidency. The poll found that a majority of whites are skeptical about Obama's competency, experience and political beliefs. While a majority of blacks and Hispanics believe that Obama is best able to bring racial harmony and hope to the poor and dispossessed.
"The racial divide that the New York Times poll found on everything from black and white views of racial progress, political expertise, immigration, and the future of the country under the first African-American president," says Hutchinson, "echo the points detailed in The Ethnic Presidency."
Hutchinson goes much further and tells how racial messages, images, stereotypes and code words impact and influence presidential elections past and present. The New York Times poll found African-American, Hispanic and Asian voters will play a major role in the presidential election. Hutchinson tells why their role and importance in presidential elections has grown immensely in the past decade and will continue to grow in future presidential elections.
.
Earl Ofari Hutchinson is an author, syndicated columnist, political analyst and commentator. He is a frequent guest on Hannity and Colmes, The O'Reilly Factor, The Big Story, EXTRA, and numerous CNN News and Talk Shows. He is associate editor of New America Media. His op-ed columns appear in the Baltimore Sun, Huffington Post, L.A. Times, Los Angeles Daily News, Washington Post, Chicago Tribune, Newsday, the Philadelphia Inquirer, San Francisco Chronicle, and the Christian Science Monitor, and other major newspapers. He is the author of ten books.
http://www.amazon.com/exec/obidos/ASIN/1881032256/
Posted by joyceanthony at 2:49 AM EDT
Updated: Sunday, 19 October 2008 2:53 AM EDT