I have the pleasure over the next several days of visiting with Shobhan Bantwal, author of
The Forbidden Daughter
. This book is not your ordinary relaxing read, but is packed with subjects so often hidden from the public view, hidden but still very much existent. These topics include:
*Gender-Based Abortions in a Male-Centric Society
*India's vanishing girl babies
*Selective abortions
*Female infanticide
* Gender-based abortion
*Female Feticide
* India's Unwanted Children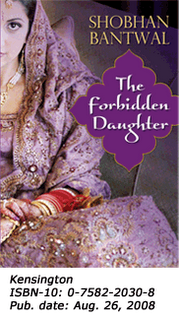 When a young widow refuses to comply with her in-laws' dictate to abort her unborn child, will her rebellion turn out to be the greatest mistake of her life, or a blessing in disguise? This is the story of one mother's valiant fight to protect her daughters in a society that often frowns on female children, and the only man who will help her in her battle when the stakes become impossibly high.
THE FORBIDDEN DAUGHTER is woven around the hot-button social issue of vanishing girl children in contemporary India, where gender-based abortions and female infanticide continue to be practiced in some areas despite laws to ban the practices.
Shobhan's Bio

Shobhan Bantwal is the author of THE DOWRY BRIDE and THE FORBIDDEN DAUGHTER. Both novels are set in India and released by Kensington Publishing Corp. Shobhan's short story titled WHERE THE LOTUS GROWS is scheduled for publication in an anthology in spring 2009 and the proceeds will be donated by the publisher, Freya's Bower, to a battered women's shelter.
As a freelance writer, Shobhan frequently writes columns for India Abroad. Since 2002, Shobhan's articles and short stories have also appeared in a variety of other publications including The Writer magazine, Little India, U.S. 1, Desi Journal, India Currents, Overseas Indian, New Woman India, Kanara Saraswat and Sulekha. Her short stories have won honors and awards in fiction contests sponsored by Writer's Digest, New York Stories and New Woman magazines.
For more information about her books, stories and articles, visit her website at www.shobhanbantwal.com
Please return to learn more about The Forbidden Daughter and Shobhan Bantwal.
Posted by joyceanthony at 1:54 AM EDT